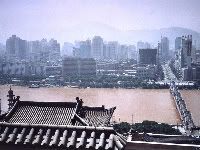 What's not to like about a $1.5 billion wind project covering 36,000-acre and generating the power for 180,000 homes in western Texas? For one, it rubs our nose in the fact that China is one of many countries that out-invests the US when it comes to renewables. The project is a joint venture that includes China's Shenyang Power Group, which points out how much China's own wind industry has grown, and reminds us of what Energy Secretary Steven Chu told Congress earlier this week: The U.S. is falling behind China and others in alternative energy investment.
But how shocking is the idea that China should aspire to be a world player in wind? "This is a natural progression," says Harvard-educated Lou Schwartz, president of Pittsburgh-based China Strategies. "We need to avoid looking at this narrowly and saying 'China's up and we're down.' We have to welcome each other."
Thus the reality we all need to face: the source of the renewable energy may be local, but the equipment to harvest it most certainly is not. I'm reminded of what Ray Lane, partner in venture capital firm Kleiner Perkins, told the audience in the "Business of Plugging In" conference a few weeks ago: The United States needs to cut the rhetoric and make real investments if it is to be a real player on the world renewables stage.