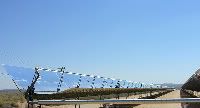 I'm sure many readers are aware of the incredible development in solar thermal / CSP (concentrated solar power). French energy giant Areva, which has a large nuclear portfolio, bought Ausra, and says it will use the acquisition to become "the world leader in concentrated solar power." Here is a discussion I just had with my colleague John Hugo:
John writes:
It's interesting that they were able to sell with little installed base and no real history of operation. The water cooling operation uses quite a bit of water and the dry version still uses water but much less and output is reduced. They have good people but they are not professional salespeople. …. I think it's a hedge vs. nuclear which I don't think will cut it due to the storage issue which has not been solved.

But despite recent political support re: nuclear why do it if you can do solar at less cost?
… and I reply
John:
Yes, this is quite a development, for sure. Here's my take for what it's worth:
CSP is extremely capital intensive. Projects require huge piles of cash, and happen only when the underwriting company is strong enough to present a meaningful warranty. I happen to know (based on my interview with the company's founder David Mills) that Ausra was hungry to partner with (or, apparently, sell to) a company that could make all this happen.
Everything else you write about CSP is correct, if perhaps overstated. It DOES use water for cooling, and there IS a storage issue. There's also a transmission issue, as the power is generated in the desert. But IMO, these are challenges that can be — and are being — overcome. First and most obviously, there is a good correlation between the sun's shining and human activity. But more importantly, advancements that are being made constantly in smart grid, high voltage DC, and molten salt energy storage, in my mind at least, make CSP the top bet for our energy future.
On the other hand, I believe that there is no future whatsoever for the nuclear industry. I know there are people who disagree (and that I'll be hearing from them any minute). But to me, no amount of money and the lobbying, subterfuge, and disinformation it buys will get that industry past the incredible dangers, outrageous costs overruns, and decade-long delays that are intrinsic to the very nature of what they do.
With all their financial (and thus political) strength, I don't doubt that you'll continue to hear claptrap about supporting nuclear. There is a word for this: corruption; it's a regrettable but deeply entrenched part of our daily lives — whether we recognize it or not. But having said this, I very much doubt that you'll live to see another new nuke actually put into operation in the US.