In a surprising announcement in March 2010, Dr. Ibrahim Nashawi of Kuwait University and colleagues released a study that suggests that world conventional crude oil will peak as early as 2014 — a decade or three earlier than other parties have estimated. The findings were published in the American Chemical Society's magazine Energy & Fuels.
 The term "Peak Oil" refers to the point in time when global production has reached its maximum and will start to decline (represented by a bell curve) — thus having bearing on the point at which the oil supply being pulled from earth will not meet oil demand and consumption. Peak Oil is about production of a finite, nonrenewable energy source which is subject to depletion. In fact, oil production has grown almost every year of the last century.
What is Peak Oil?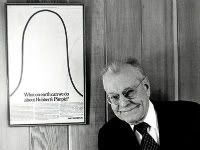 Dr. M. King Hubbert, an American geologist and oil expert shown above, conducted extensive studies and then developed a model that became known as Hubbert's Peak. (Photo courtesy of "Hubbert Tribute" at channelinghubbert.com). From his work, he predicted in the 1950's that the U.S. oil production would peak in the early 1970's. Although the professor was ridiculed at the time he released the study, he was essentially right. The U.S. never produced more oil than it did in the early 1970's — and the country's oil did peak.

The chart below illustrates the Peak Oil concept, courtesy of Swenson Campbell: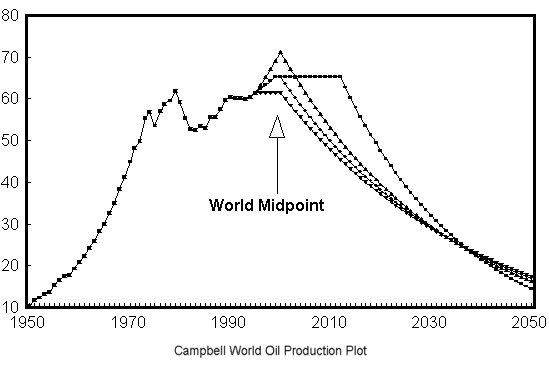 The Kuwait Study Built Upon Hubbert's Model
The Kuwaiti team built their research on Hubbert's model, but brought in factors that have amplified over the time. His model, they say, doesn't account for more complex oil production cycles of some countries which can be influenced by politics, technology and other factors. The team points out that rapid growth in global oil consumption made it important to update the prediction and modeling process. Their new version updates Hubbert's single-cycle model to a multi-cycle version. The research team evaluated and studied 47 major oil producing countries of conventional oil. Production trends and known reserves of these top countries were used in the modeling. A chart is found below, courtesy of Dr. Nashawi's report: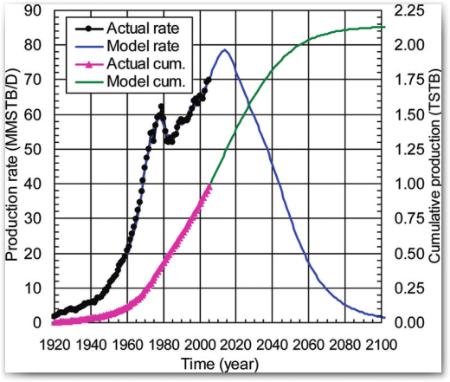 The study projects that world oil production will peak in 2014, and OPEC production should peak by 2026.
Peak Oil and the Future
Peak oil is of concern to the entire developed world, in which the use of petroleum is deeply ingrained — and to the developing world, in which oil is essential for growth. Oil provides about an average of 40% of the global energy (higher use in some countries, lower in others) – and more than 90% of transportation energy. The U.S. has about 2 percent of the world's oil reserves but consumes about 25 percent.
Oil has tremendous energy density. Roscoe Bartlett, a scientist and U.S. Congressman (R-MD) who is heavily involved in energy studies, has often been quoted as saying that one barrel of energy supplies the same power as 12 people working full-time for a year, or about 25,000 hours of manpower.
We often focus on oil's importance in the industrial and transportation sectors, but as CNN reported, up to 20 percent of the country's fossil fuel consumption goes to the food chain. Feeding an average family of four in the developed world requires up the equivalent of 930 gallons of gasoline a year – just shy of the 1,070 gallons that same family would use up each year to fuel their cars. (CNN. "All About Food & Fossil Fuels", by Rachel Oliver. March 17, 2008).
The fact of Peak Oil really means that we need to confront the situation of diminishing and more expensive oil in our future. How we will deal with it, as individuals, communities and countries?
Right now only about 7% of all our energy needs in the U.S. are met by renewable sources. Although this number is sure to grow with the current stimulus funding and development projects, it still falls far short of where we need to go. Most of renewable energy at this point is targeted at generating electricity, and while many sources for renewables are abundant and free (wind, air, waves), the implementation to date is not as effective and inexpensive.
Other Studies and Reports
There have been many reports over the decades addressing Peak Oil. These include commissioned reports such as the 2005 "Hirsch Report", as it became known; the National Energy Policy's report in 2001; studies done by the Association of the Study of Peak Oil, those by universities and researchers; and the new study recently published called "Tipping Point: Near-Term Systemic Implications of a Peak in Global Oil Production" from Feasta, the Foundation for the Economics of Sustainability in Ireland (March 15, 2010 report). The data is available, presented, and understood – but has not garnered much attention in this country, in my opinion, nor has helped any substantial calls to action.
Even folks not traditionally trained in oil, like Sir Richard Branson, have warned of the coming oil crunch. In February 2010, the founder of Virgin announced that he believes the coming oil crisis will be here in five years. He and other British industrialists are calling on their government to act now and prepare. "Don't let the oil crunch catch us out in the way that the credit crunch did," he said. (The Guardian. "Branson Warns that Oil Crunch is coming within five years", by Terry Macalister. 7 Feb 2010.)
But for every person raising his voice there seems to be one downplaying the situation. At the annual World Economic Forum just last month in Davos, Switzerland, Daniel Yergin, an energy guru insisted in a talk that the awful days of Peak Oil are far off in the future. However, the CEO of Shell Oil actually disagreed at the same conference, and said trillions of dollars of investment are needed over the next years to meet the needs brought on by peak oil, while the chairperson for Total (major oil company in France) said in his speech that Peak Oil is a problem, and that it will probably be reached within ten years.
What is the Future?
If the study and modeling results from Kuwait – and other previous studies – are correct, it highlights the need to:
Develop renewable energies at a faster speed
Support research and development
Conserve energy
Gain government support and long-term policies
Explore use of more abundant and cleaner natural gas in the U.S. for such things as large vehicles (buses, trucks) as T. Boone Pickens favors.
Plan for short-term, the mid-term and future for all sources of energy and national security.
In fact, the Kuwaiti professors said that this new model could help "inform energy-related decisions and public policy debate". (ScienceDaily. "World Crude Oil Production May Peak a Decade Earlier than Some Predict." March 11, 2010.)
The American Society of Peak Oil (ASPO) is devoted to the study of peak oil and is recognized as the authority on the subject.