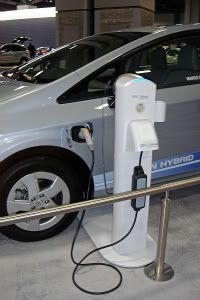 I know not everyone studies the well-to-wheels comparisons of fuel sources for transportation, and that there are people who harbor grave misunderstanding in the area.  Here, frequent commenter Glenn Doty writes:
With our current grid, nearly 100% of the energy used to power EV's will be coal. That means that a Nissan Leaf will cause more than twice the emissions/mile as a Toyota Prius, and that's only the marginal emissions. Once the initial capital emissions are considered, it will be significantly worse still.

In no way would EV's be better for the environment than HEV's – which are far less expensive.

EV's will universally do far greater harm than ICEV's if you compare similar size vehicles. So why are they being pushed as "green"?
All I can say in response is to request that he – and others who have similar beliefs – read one of the numerous studies on auto emissions that has been done recently on the subject, like this one by Sherry Boschert showing just the opposite.