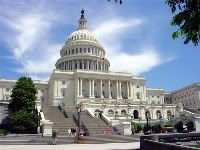 It is with great pleasure that I announce the introduction of a measure into the U.S. senate calling for a constitutional amendment that would limit the rights that corporations have to influence our elections.  The amendment, referred to as "Saving American Democracy," would nullify the Supreme Court decision (Citizens United vs. FEC)  granting corporations unlimited rights to free speech (see video linked here).  As sponsor Bernie Sanders (I-VT) points out, if this measure does not go forward, it "means the end to American Democracy as we know it."
Cynical wiseguys may argue that there's nothing left to save, but you won't hear those words issuing from my lips….
Here's Sanders' speech, an excerpt from which reads:
In my view, a corporation is not a person. In my view, a corporation does not have first amendment rights, to spend as much money as it wants without disclosure, on a political campaign. In my view, corporations should not be able to go into their treasuries, spend millions and millions of dollars, on a campaign, in order to buy elections. I do not believe that that is what American democracy is supposed to be about. I do not believe that that is what the bravest of the brave, from our country, fighting for democracy, fought and died to preserve. 
If anyone has a good argument counter to this, I'll sure be impressed.