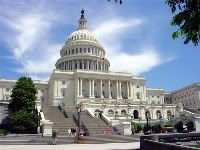 Here's a piece of U.S. legislation that is unimaginably unAmerican: the National Defense Authorization Act (NDAA) of 2012, Section 1031 which provides broad authority for the federal government to use the military in domestic operations in order to detain Americans indefinitely and without trial. Such a move nullifies the 4th Amendment to the U.S. Constitution, as well as the natural rights of Americans.
Even publicly criticizing the federal government can now rise to the purposefully vague definition of a "belligerent act." I could be arrested and detained indefinitely — without access to a  lawyer, btw — for what I'm doing right now.
This isn't liberty, folks. This is not what our brave soldiers have fought and died to defend through the last 236 years.
Remarkably, NDAA 2012 has passed both the House and the Senate, but I'm hoping that once they figure this out, Americans will raise their voices and ask the president to veto the bill. Here's the White House Comments Line: 202-456-1111, and here is the online form for comments (which I just used).