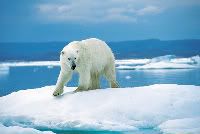 I've finally gotten around to reading Jeremy Rifkin's fabulous The Third Industrial Revolution, which includes the following:
In 1981, The Congressional Clearinghouse on the Future, a legislative service organization made up of more than one hundred congressmen and senators, invited me to present two informal, off-the-record lectures for congress on the thermodynamic consequences of industrially induced CO2 emissions.
I'm not sure how to react to the idea that our leaders have known about the issue since 1981, and now, 31 years later, as the evidence for all this has steadily mounted, are running for president on the platform of cutting regulations and denying the existence of global climate change.
It's true that we live in a democracy of sorts, that our leaders do what they're commanded by voters, and that many voters have been swayed by the propaganda of the oil and coal companies in this arena. But shouldn't leaders lead, rather than follow?
I hate to start off the new year with a message of anger, but I can't think of another response.