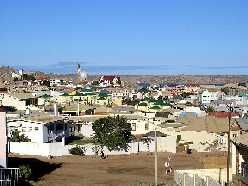 Here's an interview with 2GreenEnergy Associate Agostinho Miguel Garcia, who's working on a very interesting solar thermal (concentrated solar power / CSP) project in Namibia – a country whose conditions are perfect for CSP.  
Agostinho's headquartered in Lisbon, but works all over the Eastern Hemisphere.  Great guy.   
In response to my congratulatory email, Agostinho writes:  "Thank you! This is very important for Namibia. I hope this brings them on the CSP map."
I hope so too.