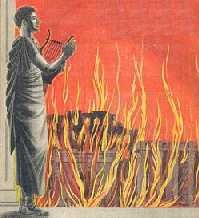 Have you ever had the thought that our society is deliberately distracted, confused, and sidetracked from the real issues that matter, focused instead on hot-button concepts, perhaps gay marriage?  It's fairly clear that the survival of mankind and all life forms here on Earth depends on the actions we take over the next few years to achieve sustainable practices in energy, water, and food.  The planet is warming, the sea levels are rising, the oceans are acidifying, potable water is becoming scarcer, the rain forests are disappearing, and farm lands are becoming deserts.  Yet we don't have a problem with our endless debates as to whether or not marriage is a union between one man and one woman.  That seems a bit strange to me.
When I work at home, I sometimes take a break in the middle of the day and play the piano for a bit.  I jokingly refer to this in my own mind as "fiddling while Rome burns." Here I am, working on a piece of Chopin; in the three minutes it takes for me to play it, my government has borrowed another two million dollars to buy oil from a regime that wants to see us dead. 
It's not easy to keep this in perspective, but I think it's the job of each one of us to do so.
PS: I'm in New York City this week with a few open time slots.  If you know of anyone you think I should see while I'm there, please let me know.  Thanks.