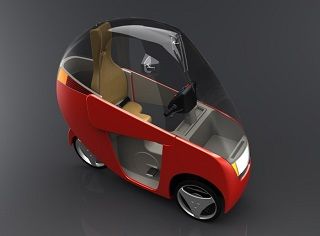 It's been a while since I wrote anything about my friends at EMcycle, whom I interviewed for one of our very first "2GreenEnergy Video Reports" back in 2011.  Astonishingly, EMcycle never got the full commitment of support they needed: an investor with a few million dollars to take this concept into production, though they're now in conversations that seem quite promising.
What is an EMcycle?  I could bore you with the details, but the photo here says it nicely: it's an e-bike oriented to the business community—one that shelters its occupant from rain, dirt, and a host of other stuff we don't really want to be coated in.  We may not object to this on our weekend rides, but we most certainly don't want it during the work week.  At the same time, the EMcycle provides a place for us to hang a sport jacket, or to stow groceries.
There are three reasons why I believe this concept is bound to succeed:
At the risk of appearing egotistical, first and foremost is my own reasoning.  Here is why I personally believe there is an extremely high probability that the EMcycle will enjoy great success in the marketplace of urban commuters:
·         Large populations in the developed world, especially young people, are keen to reduce the size of their eco-footprint associated with driving.
·         This audience is not locked rigidly into the paradigms of the past, as evidenced by the way they have radically changed their lifestyles by adopting the thousands of popular apps for smart phones. New phenomena in today's world come to prominence with lightning speed.
·         Couple this with the fact that people are starting to rethink one of the most ingrained paradigms in the Western world, i.e., car ownership, while they're looking for low-impact alternatives for short distances, e.g., trips to the store and commuting to work.
·         But there are important natural limits here, one of which is imposed by the inconvenience of public transportation, particularly the first and last miles.   Another key limit  is associated with bicycles, i.e., people don't want to arrive at their destination sweaty, dirty, or soaking wet from rain.
·         The EMcycle is one of very few options available to this large and growing demographic.  If the price point is attractive, and the quality appealing, I believe this can be a huge winner.
The second reason I see success coming here is not my own viewpoint, but that of distributors.  Several dozen organizations that carry bicycles, e-bikes, and scooters all over the world positively LOVE the EMcycle, and are champing at the bit to take it on.
Third and final is that this product has huge potential to improve, in terms of its physical characteristics, from the development of "new materials."  Of course, one could say this about many products — but the EMcycle stands to benefit more than most from these new light and super-strong substances.  For those who might have missed this article in Gizmag, here's a link.  Apparently, researchers from MIT and Lawrence Livermore National Laboratory (LLNL) have developed ultra-lightweight materials for use in the construction of the bodies and frames of cars and airplanes that are literally lighter than air.
I'm extremely excited with the potential of the EMcycle.  How 'bout you? If you'd like to learn more, please let me know.