Today is the anniversary of the first well-known UFO sighting in 1947, a good time to ask readers to ponder the most obvious question related to this phenomenon: Are we alone in the universe?
Dr. Michio Kaku, the ubiquitous physics professor and author, thinks that we aren't; in fact, he classifies extraterrestrial civilizations according to the source they use to generate the energy they need.  A Class I civilization derives its energy from its local star, where a Class II civilization (as I recall) somehow pulls energy out of its entire galaxy.  While this way sounds a bit wild for some people to take seriously, considering our current lack of any experience with beings from other worlds, it carries with it an important implication, i.e., we're still a "Class O society."
Having said that, we're tantalizingly close to a big, fat promotion.  The U.S. grid mix is about 5% solar PV and wind (both of which come from the sun), and this figure is growing every day.  While 5% isn't huge, it's certainly worth talking about.  Note that almost all of it has come online over the very recent past, and, further, that it's poised for exponential growth.
Think for a moment of the ads we see for weight loss, hair restoration, and home improvement that feature "before" and "after" photos.  I offer the following two camera shots to show the appeal of becoming an "after planet," i.e., a Class I civilization.
We're knocking on the door; let's get it done.
Before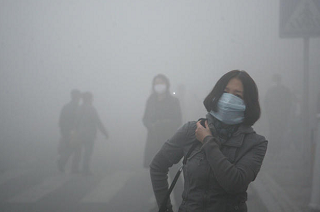 After