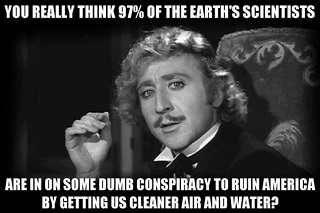 Re: the meme to the left here, Senior Energy Analyst Glenn Doty notes: It hasn't been 97% for over a decade… it's now ~99%.  The only "skeptics" left in the denialist camp all receive heavy funding from fossil fuel companies, or are retired partisan blowhards who have made no effort to inform themselves on the subject for many, many years.
And just when you thought the Trump administration couldn't get any more malevolent against the environment, William Happer, the frontrunner for the role of science adviser to Donald Trump describes climate scientists to the Guardian thusly: "There's a whole area of climate so-called science that is really more like a cult. It's like Hare Krishna or something like that. They're glassy-eyed and they chant. It will potentially harm the image of all science."
According to that paper: Trump has previously described global warming as "very expensive … bullshit" and has signaled a continued hardline stance since taking power. He has nominated the former Texas governor Rick Perry, a staunch climate sceptic, as secretary of energy and hopes to put the Environmental Protection Agency (EPA) under the leadership of Scott Pruitt, the Oklahoma attorney general, who has been one of the agency's most hostile critics.
It's hard to know what's more outrageous: impugning the integrity and intellectual acumen of tens of thousands of our top scientists, or wantonly destroying our planet with the denial of hard science.  I guess it's a toss-up.