Be honest with yourself. You have more than an idle curiosity about where the electric vehicle industry is going.
You know very well that some people are going to get quite rich as we replace the 800 million internal combustion engines on our roads with alternate power trains, especially PHEVs, BEVs, and fuel-cell vehicles … and you're wondering what it's going to take to be one on them.
Headline divorces always mean significant shifts in wealth…. Can you think of a divorce in history any larger that Big Auto and Big Oil?
That's why I urge you to get this report: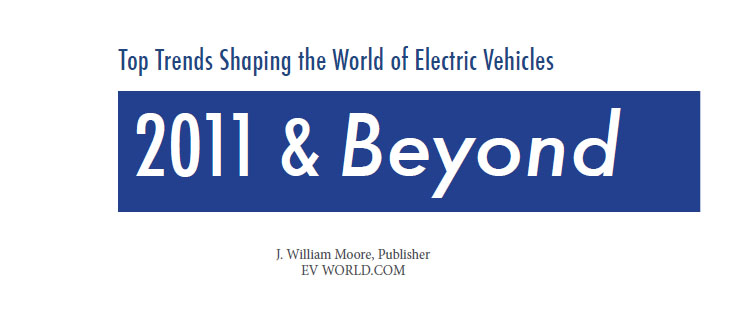 Let's face the facts. There is plenty of reporting – maybe too much – on the past and present of the migration to electric vehicles.
We've had our delays and bankruptcies, the OEMs dragging their heels, promising technologies that failed to materialize, repressive neighborhood EV legislation.
We've had fantastic triumphs: huge rounds of financing for a certain few start-ups, advancements in battery chemistry, and dozens of OEMs – some that seemed least likely to do so – running like the devil and making terrific progress in the EV product launch plans.
But all that's already on the table. It's the present – or the ancient past. You can read all about it on EVWorld – for free.
Want to know what the future holds? Get the report.
Use the information to do the same thing the report's author (EVWorld's editor Bill Moore) and we are endeavoring to do: be an effective contributor to this multi-trillion dollar industry — and be compensated for it in the process.
Since 1998, Bill Moore has been traveling the world, attending the big conferences, interviewing the key players, and keeping the entire planet apprised of the EV news. 13 years of hard work and fair, objective reporting has put Bill in a position of unparalleled industry credibility.
The report's postscript is written by 2GreenEnergy editor Craig Shields, author of Renewable Energy –
Facts and Fantasies, #1 best-selling energy book on Amazon.
There are an unlimited number of business directions that are suggested by the trends the report outlines:
What are the implications for EV start-ups?
For traditional OEMs whose stock you can buy any hour of the day or night?
Where are the opportunities for supply chain partners?
For charging infrastructure players?
What does the future look like for battery suppliers?
For the power utilities?
What does all this mean for the clean energy sector?
Aspiring to make a buck in electric transportation? Download this $395 report — on sale for a limited time only.
IMPORTANT NOTE: Immediately after you complete your payment you will see a link under the PayPal logo that says "Return to EVworld-2GreenEnergy." Click on that link to instantly access and download your report.
PS: If for any reason you are not satisfied with this report, just request a refund by clicking CONTACT at the top of any page on this 2GreenEnergy.com website and you will promptly receive a full refund.