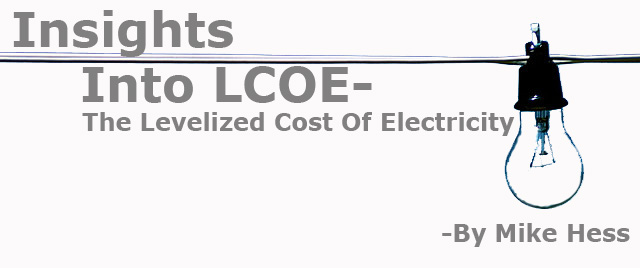 Before our society can decide on a certain course for its energy policy, we need to ask ourselves a central question: What Does It Cost?
That's exactly why industry analyst Mike Hess went to work recently, asking tough questions about land use, externalities, the safety of fracking, food and water shortages, climate change, transmission rights, smart-grid, efficiency, conservation, consumer incentives, carbon taxes, energy storage, health hazards, feed-in tariffs, subsidies – you name it.
To answer this one question that lies at the very core of the energy debate, Hess drew from dozens of different input feeds from industry and government. He's brought it all together in a 32-page report called "Insights into LCOE – The Levelized Cost of Energy," available here for $59.95.

30-Day Money Back Guarantee.
If this Report does not live up to
your expectations for any reason,
click "Contact" (top of every page)
and request a refund.