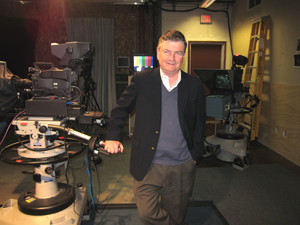 About Craig
Craig Shields is editor of 2GreenEnergy, and author of an ongoing series of books, including Renewable Energy – Facts and Fantasies (published by Clean Energy Press, 2010) and Is Renewable Really Doable? (2012) — both #1 best-sellers on Amazon.com in their respective categories. He published his most recent project: Renewable Energy – Following the Money in 2013. Craig's background includes a degree in physics, a 30-year career as a business consultant and public speaker, and the publication of many hundreds of articles and white papers on clean energy and electric transportation. Click here for more information about Craig Shields
Download Craig's Bio
Click here to download a PDF resume of Craig Shields.
About Renewable Energy – Facts and Fantasies
Renewable Energy – Facts and Fantasies (published by Clean Energy Press, 2010) is a compilation of 25 interviews that author Craig Shields conducted with subject matter experts on clean energy and electric transportation. Upon its release, the book shot to the top of the Amazon.com charts in both "energy" and "engineering," and is acclaimed for its fair-minded treatment of the "tough realities" that face our civilization in this critically important space. Click here for more information about Renewable Energy – Facts and Fantasies.
About Is Renewable Really Doable?
What are the world's biggest governments doing to accelerate – and retard – the adoption of clean energy? How do venture capitalists think with the respect to clean energy start-ups? How pure and unbiased is the thinking of the scientific community? What will the world probably be like in ten years? 50 years? How will the credit crunch and the end of cheap oil will affect us all?
About Renewable Energy – Following the Money
This book is a follow-on to Craig's first two book projects: "Renewable Energy—Facts and Fantasies" – published in 2010, a survey of the technology, the economics, and the politics associated with clean energy, and "Is Renewable Really Doable?" – published in 2012, a "deeper dive" into the issues preventing us as a civilization from migrating to a safe and sane energy policy. Here in "Following the Money," Shields presents another set of interviews, these associated with the effects that economics and financial power have on the course of the energy industry, including high-ranking officers in the US military, lobbyists, scientists, economists, environmentalists, journalists, and heads of NGOs. Of course, as the world's concerns over the health and environmental effects of consuming fossil fuels grow with each passing year, this becomes a much more interesting subject than it was a few decades ago. We live on a planet with about 200 sovereign countries, representing a wide range of types of governments, levels of affluence, and access to energy resources, not to mention citizenries with varying sensibilities regarding environmentalism and levels of interest in the subject. Where is all of this going? Craig suggests that we follow the money, and see where it takes us.
J Craig Shields III-Resume Summary
Craig Shields' background is a blend of business consulting, public speaking, and advocacy for clean technology. Since 1983, Craig has owned and managed a marketing agency with a staff as large as 210 professionals, generating demand for Fortune-sized and high-growth clients in IT, automotive, and industrial capital equipment. Headline client relationships have included IBM, Hewlett-Packard, Sony, Porsche Motor Cars, 3M, FedEx, General Motors, ITT, Litton, 3Com, Xerox, Penske, AT&T, National Semiconductor, Philips Electronics, Nortel Networks, Unisys, Pacific Telesis, Fujitsu, and Oracle. These client relationships put Craig in a position of the company's spokesperson, in which he made live and on-camera presentations to thousands of business audiences worldwide over a period of three decades. His skills in the regards were further refined through his participation in Toastmasters, where he attained the level of ATM (Advanced Toastmaster). Current Focus: Renewable Energy Craig's position as editor of 2GreenEnergy and Clean Energy Press enables him to use these business skills to forward concepts that are central to our survival as a species: the cessation of destructive practices associated with the production and consumption of energy. Since its inception, the website www.2GreenEnergy has enabled people all around the globe to come together and share important ideas concerning renewable energy, electric transportation, and sustainability more generally. Author
Craig's Books
Renewable Energy – Facts and Fantasies (published 2010, Clean Energy Press, 315 pages), is a compilation of interviews with 25 subject matter experts on the technology, the economics, and the politics of clean energy. Is Renewable Really Doable? (2012) is a "deeper dive" into the imperative to move to clean energy, as well as the challenges we face in the process. Renewable Energy – Following the Money scheduled for January, 2013.
Video Interviews by Craig
Craig Shields interviews renewable energy leaders and news makers. Click here for Craig Shields videos.
Image Downloads
Low-res cover art for Is Renewable Really Doable Hi-res cover art for Is Renewable Really Doable Low-res cover art for Renewable Energy – Facts and Fantasies Hi-res cover art for Renewable Energy – Facts and Fantasies Low-res 2GreenEnergy Logo Hi-res 2GreenEnergy Logo
Photos of Craig