Craig Shields Announces His Third Book:
Renewable Energy—Following the Money
Do you get the feeling that the energy industry and the Congress that it owns are deliberately lying to you? If so, you are 100% correct.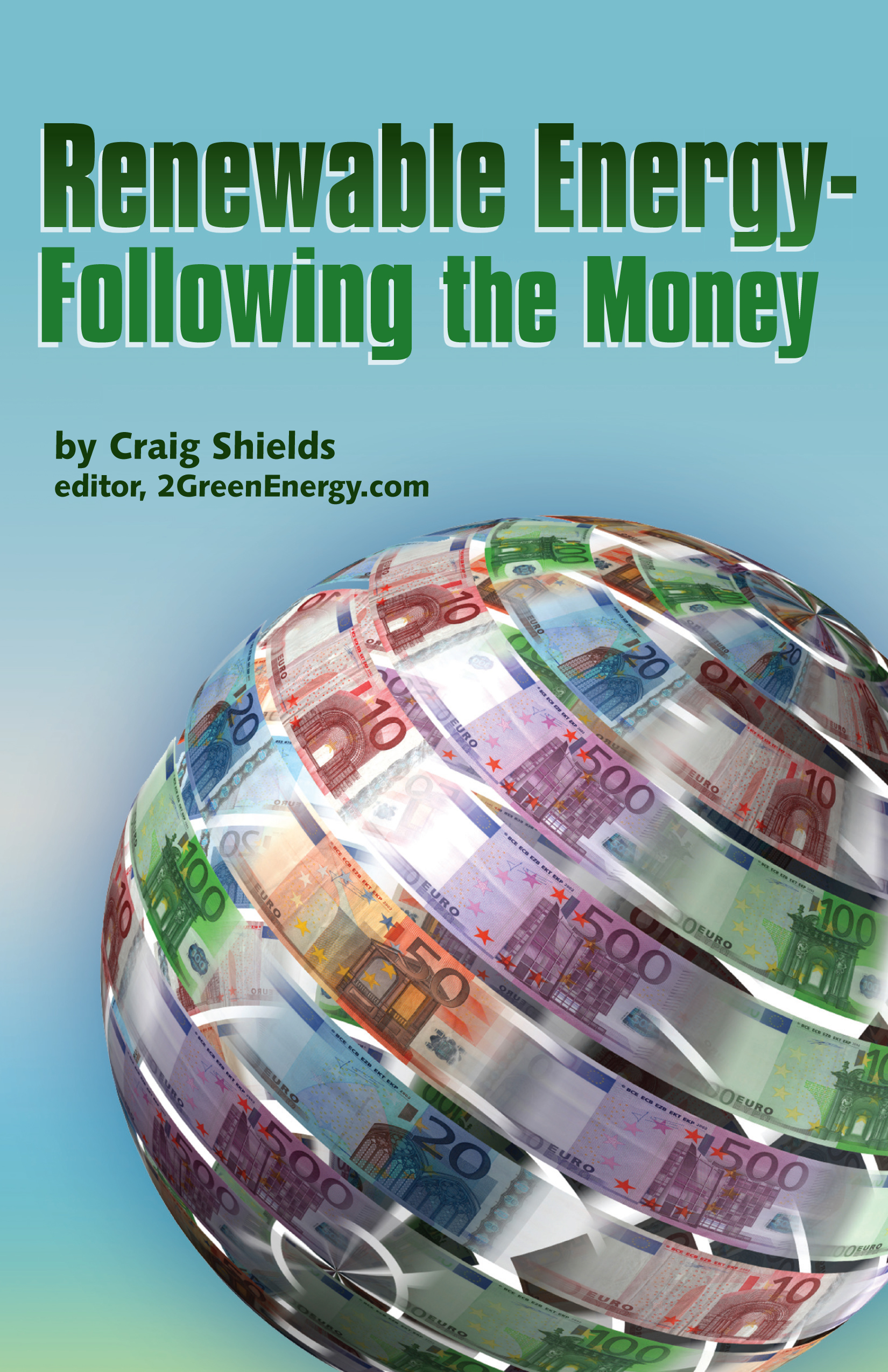 This book is a follow-on to Craig's first two book projects: "Renewable Energy—Facts and Fantasies" – published in 2010, a survey of the technology, the economics, and the politics associated with clean energy, and "Is Renewable Really Doable?" – published in 2012, a "deeper dive" into the issues preventing us as a civilization from migrating to a safe and sane energy policy.
Here in "Following the Money," Shields presents another set of interviews, these associated with the effects that economics and financial power have on the course of the energy industry, including high-ranking officers in the US military, lobbyists, scientists, economists, environmentalists, journalists, and heads of NGOs.
The concept of "following the money" is by no means new. Socrates told us 2500 years ago that "all wars are about money," a notion that's certainly as true today as it was in ancient Athens. Much more recently, we recall that the truth behind the Watergate break-in that brought down Richard Nixon and the hint the mysterious informant provided: "follow the money." The phrase has become so iconographic in our times that it has its own page on Wikipedia.
It comes as news to no one that the energy industry is the most profitable on Earth. Based on their rise to prominence in the 20th Century, the annual earnings of the top five oil companies alone (ExxonMobil, BP, Shell, Conoco Philips, and Chevron) are now measured in the hundreds of billions of dollars. And, though I'm not privy to their board meetings, it seems a reasonable bet that they intend to use that muscle to retain their position of leadership through the 21st Century. By all accounts, any attempt to alter these people's plans means fighting against the single most powerful political force in the known universe.
Of course, as the world's concerns over the health and environmental effects of consuming fossil fuels grow with each passing year, this becomes a much more interesting subject than it was a few decades ago. We live on a planet with about 200 sovereign countries, representing a wide range of types of governments, levels of affluence, and access to energy resources, not to mention citizenries with varying sensibilities regarding environmentalism and levels of interest in the subject.
Where is all of this going? Shields isn't sure. He suggests that we follow the money, and see where it takes us.
At the risk of giving anything away, Shields isn't promising a surprise ending. As he wrote in my introduction to his last book, those who believe that the working of the world have even the remotest bearing on what's good for the seven billion people who live here are in for a rude shock. What's going on around us, of which our world energy policy is only one example, is anything but an accident; it's a careful unfolding of events designed to further enrich an extremely slender minority of interests – and guess what? Change of any type – especially the radical change that our civilization so desperately needs in its approach to transportation and energy – is not part of their plan.
That, of course, doesn't mean that the exercise is of academic importance only. There is, in fact, a chance that humankind can forge a sustainable path to its consumption of resources here on Earth, but, if we are to make it happen, it will be because of a largely informed electorate – of people who understand and honestly care what's going on around them.
"OK," Shields begins, "Seatbelts fastened? Let's follow the money."
Available in soft-back and Kindle. Order your copy from Amazon today.
Hi-res cover art for "Renewable Energy—Following the Money"